Description
Laser Machine Papameters:
| | |
| --- | --- |
| Model | RCL-6040 |
| Laser type | Co2 |
| Laser  power | 40W/50W/60W/80W/100W |
| Driving system | digital   subdivision  stepper  motor |
| Power  supply | AC220V±10% |
| Worktable | honeycomb, blade(optional) |
| Mini  shaping  character | English  letter 0.8*0.8mm |
| Control  configuration |  RD/QIANCHENG  controlling   system |
| Data  transfer  interface | USB2.0(offline) |
| System  environment | Windows2000/Windows  XP/Win7 |
| Compatible   software | Coreldraw |
| Optionals | Up&Down Table, Honeycomb Worktable, Rotary Device, Red Dot Position System, Auto-focus Device, front & rear door |
| Cut-off  protection | Yes |
Highlights of RCL-6040 Laser Engraving and Cutting Machine.
1. Cut off protection system.
2. 32DSP control technology achieving fast continuous curve cutting.
3. Complete exhaust and filtering of cutting emissions.
4. Secured and intuitive control of the system with software-independent.
5. Smooth and flat cut cross section.
6. High Efficiency tube with stable laser path, life time reaches to 10000 hours.
7. Taiwan HIWIN high precision guide rail, ensures stable high speed move. High corrosion resistance.
8. Scientific design and high-strength steel frame structure, prevent the machine from distoration during long term work.
RCL-6040 Advantages. 
1. Visible Red Dot Pointer: Make the laser beam "visible".
2. Emergency Stop: Turn off the machine immediately when there is an accident.
3. Motorized Table: Control the worktable up/down from LCD panel directly.
4. Open Flap Protection: Laser will stop working if the front cover been openned.
5. Mirror Mount: Easily re-adjusting mirror mounts.
6. LCD Panel: Set speed, power, etc.
7. Water protection: Laser will stop working if the water cooling system is not working.
8. High Quality Rails: Keep the engraving/cutting precise and durable.
9. Honey comb table or strip table.
10. Auto Focus: Help the user to set the focus easier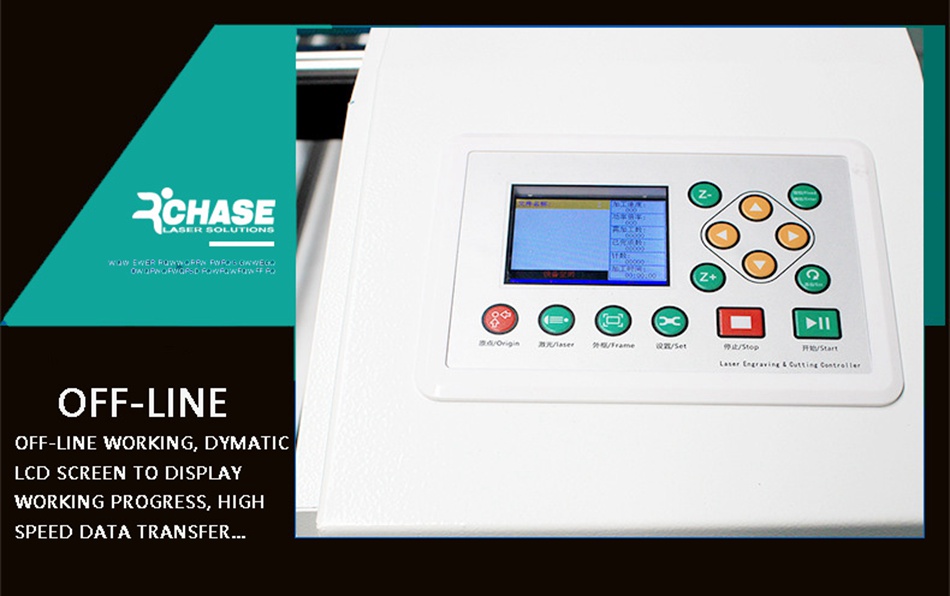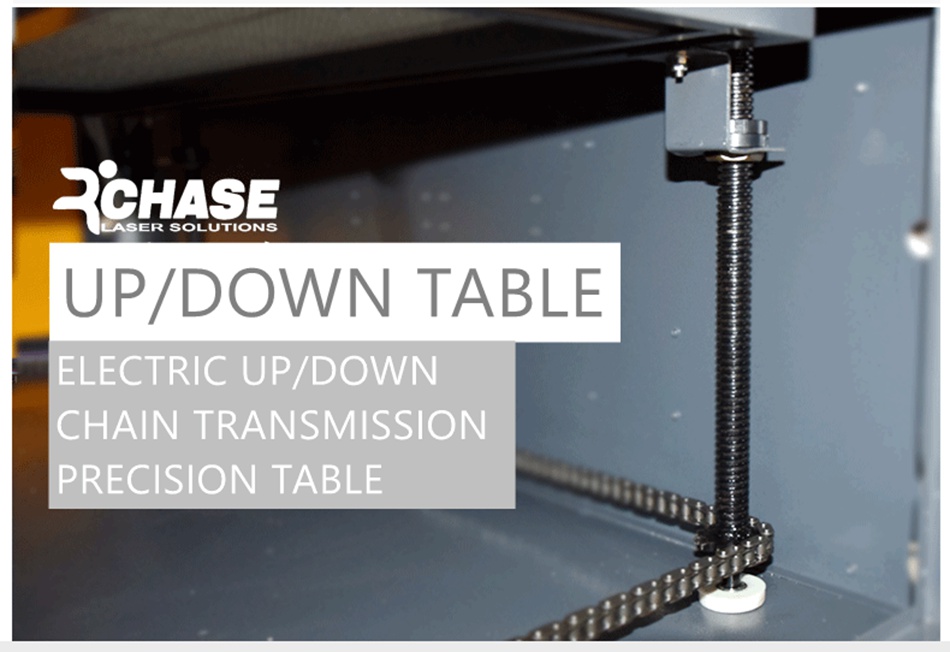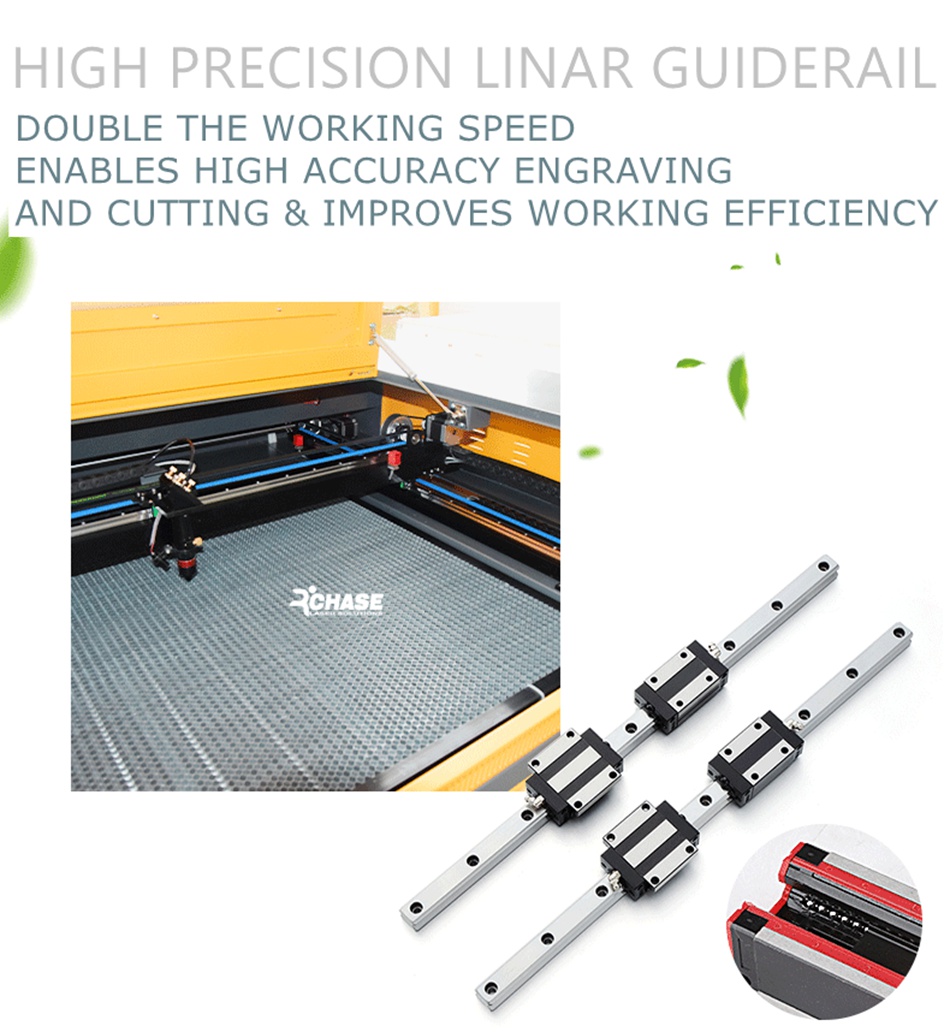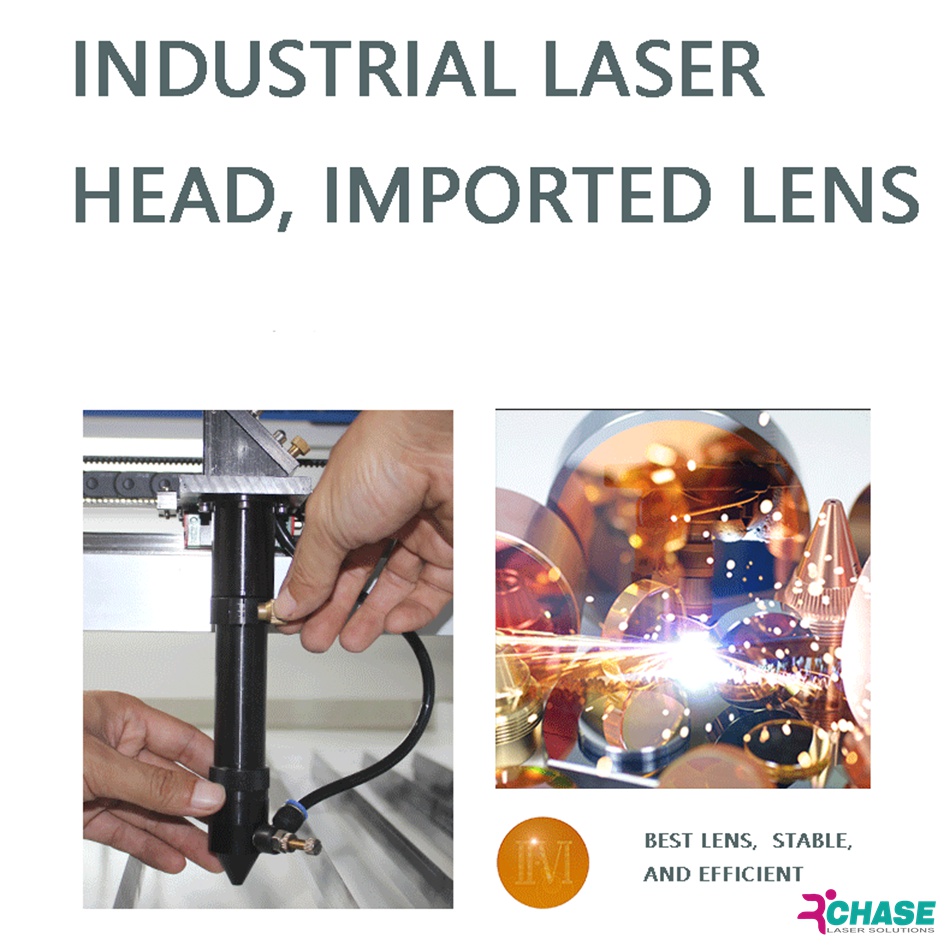 Suitable Materials:
Nonmetal materials such as acrylic, double color board, Plexiglas, glass, bamboo, wood, rubber, marble, granite, ceramic, porcelain, tiles, leather, cloth, plastic, stone, ABS, MDF, paper, hard paper, laminates, rubber, crystal, electronic components, etc.
Suitable Industries:
Advertising, gifting, outdoor display, crystal ornaments, paper-cut, bamboo and wooden product, garment and leather, embroidery, decoration and upholster industry, furniture making, packaging, digital printing, food, glass, medical, toy, promotional products, arts and crafts, jewelry, lighting, hardware, kitchenware, handicraft, manufacturing, machining, education, research and so on…
Remarks:
Laser machine can easily process on circular or curved surface (3D engraving, or 3D marking) with a rotary device attached. Rotary attachment is suitable for both laser cutting machine, laser engraving machine and laser marking machine.
Chuck Rotary
You can simply enable the machine to engrave or cut on curgved or cylinder objects such as bottles and cans by addding a rotary device to realize 3D engraving or cutting.
Auto Feeding
Auto feeding system such as auto feeding table could increase laser machine's working speed, it can stop feeding just like a regular working table when you turn it off.
Multiple Heads
You can install multiple laser head with same nozle or different for your laser machine and double or triple the working speed very easily which saves money
Power
Different power or multiple tubes can be installed on a CO2 laser machine for different process or improve efficiency. Power is also optional to fiber lasers.