Laser Applications
Popular laser machines include laser cutters, laser marking and laser engraving machines are very widely used in many industries which may far beyond your imagination, such as advertising, gifting, outdoor display, DIYs, crystal ornaments, paper-cut, bamboo and wooden product, garment and leather, embroidery, decoration and upholster industry, furniture making, packaging, digital printing, food, glass, medical, toy, promotional products, arts and crafts, jewelry, lighting, hardware, kitchenware, handicraft, manufacturing, machining, education, research and so on... Here below you can find some typical applications of laser machines for your reference. And if you are not sure if your demand can be satisfied, please contact our professionals at any time, we can give you complete laser solutions, even customize the machine as per your demand!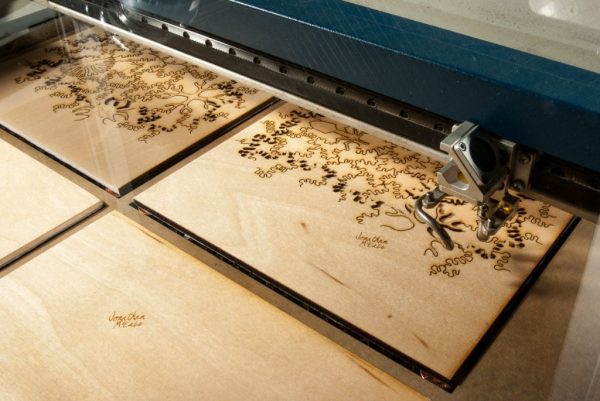 Laser Engraving
Laser engraving is the practice of using lasers to engrave an object. The technique does not involve the use of inks, nor does it involve tool bits which contact the engraving surface and wear out. Laser Engraving is very fast and always comes with high precision.
Laser Marking
Laser marking, on the other hand, is a broader category of methods to leave marks on an object, which also includes color change due to chemical/molecular alteration, charring, foaming, melting, ablation, and more. Laser marking has been more pronounced for specially designed "laserable" materials and also for some paints. These include laser-sensitive polymers and novel metal alloys.
Laser Cutting
Laser cutting is a technology that uses a laser to cut materials, it's a method of cutting a design from a given material using a CAD file to guide it. There are three main types of lasers used in the industry: CO2 lasers Nd and Nd-YAG. Laser Machine can cut a wide variety of materials include metallic and nonmetal materials. However, CO 2 lasers can't cut metals and hard materials.
The laserable materials is very wide, from nonmetals to metalic materials, cush as wood, acrylic, stone, ceramic, porcelain, plastic, leather, MDF, ABS, glass, bronze, aluminium, steel, gold, silver, and so on…
Please contact us freely if you are not sure if your materials are suitable for laser machines. Rochase professionals would be glad to give you best answers at very first time!
Request For Quotation